AIFA Technology Enables Smart Control for All Traditional Devices
By    John Liu  –  April 12, 2018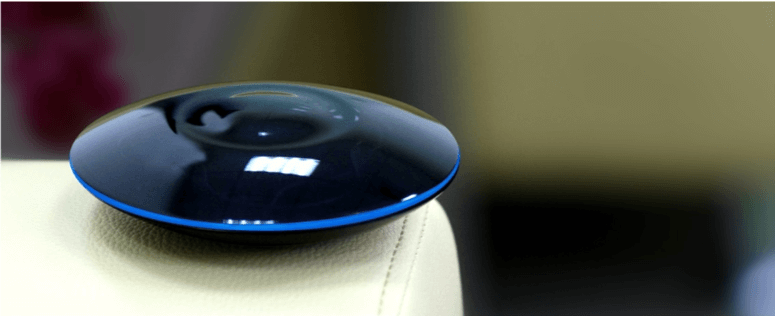 Today there are billions of infrared appliances around the world. Traditional TV, set-top box, air conditioner, etc. are all controlled via infrared remotes. One may think that these devices, in the age of Wi-Fi connectivity, will be phased out in the smart home evolution. But on the contrary, thanks to AIFA Technology's innovation, they can all jump on the smart home bandwagon, to be connected to the Internet, enabling end-users to control them via smartphone or smart speakers.
In the shape of a UFO that is small enough to be placed in the palm, AIFA's i-Ctrl can send infrared signals to electronics like TV, set-top box, DVD player, air conditioner and stereo. The device also connects to Wi-Fi, allowing it to take commands via the Internet. As such, users can use their internet-connected phones to control electronics.
Ctrl aims to bring greater convenience. A typical household has more than one TV and several air conditioners, and as such, has multiple remote controls. But with i-Ctrl, the companion app provides a centralized user interface to control all the devices. Now there are no more hassles with finding remotes to turn on and off devices.
"It's more convenient with using the smartphone as a remote, because we carry it all the time. Also, smartphone allows you to control home appliances from anywhere in the world as long as there is Wi-Fi connection," said AIFA General Manager Ni Wen-lu.
Ctrl also has scheduling and "scene" functions built-in. The former lets users turn on or off devices at a pre-set time. As such, homeowners who are on vacation, for example, may schedule the TV and lighting to turn on at a certain time of the day every day to make it look like someone is home, to prevent burglary.
The "scene" function, on the other hand, can turn on or off multiple devices at once, to create a "movie mode," for example, that dims the lights, turns on the TV and increases speaker volume at the same time.
Easy to Set up and Voice Control
Ctrl also features an easy setup process. Simply download the companion app, which works with both iOS and Android devices, and from the app, users will be able to connect their home devices to i-Ctrl and then start to control them with mobile phones. i-Ctrl's infrared database stores transmission signals of more than 1,000 electronics brands, or 95 percent of devices around the world, according to AIFA. And a patented technology of AIFA allows i-Ctrl to learn any infrared signal immediately. It's not a complicated process and end-users can set it up on their own in minutes.
Ctrl can be connected to smart speakers to enable voice control as well. The device currently supports Amazon Alexa, which means users will be able to voice-control traditional home appliances from an Amazon Echo. The company plans to add Google Home and Apple HomeKit support in the near future.
Smart speakers today are more commonly used to play music, to provide information such as weather update, and not for home appliance control. "They can only speak, but they don't have 'hands' to control many existing appliances," Ni said. Indeed, smart speakers on the market today lack the infrared database to take control of traditional home appliances. "Whether it's Apple, Google or other brands, they don't have the capability to do that," Ni added.
Pursuing Highest Quality
Founded in 1993, Taiwan-based AIFA Technology specializes in manufacturing infrared remotes that have been sold around the world. The company's ISO 9000-compliant factory makes products which have met the U.S.'s FCC certification, Japan's TELEC certifications, and Europe's CE and Restriction of Hazardous Substances Directive (RoHS) certifications.
As a winner of the 2018 Taiwan Excellence Award, i-Ctrl is the company's latest innovation. With hundreds of billions of infrared devices in existence today, many people around the world may find i-Ctrl very useful. Newer electronics that have Wi-Fi connectivity also come with infrared remotes, which means infrared is unlikely to become obsolete any time soon.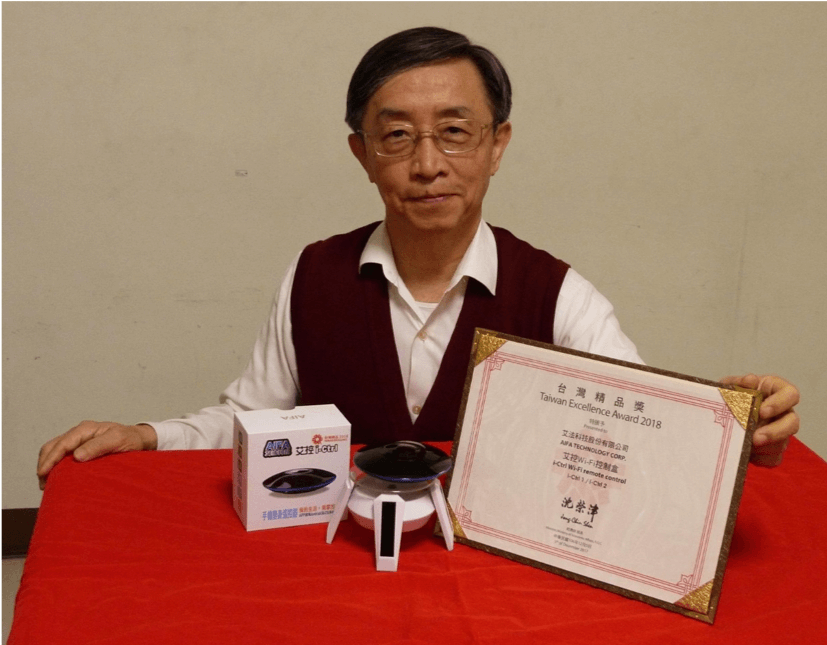 AIFA distinguishes itself by pursuing very high standards, allowing it to work with clients from Japan and Germany for more than 10 years, Ni said. "Japanese customers trust our quality and IC and product development capability. We have the right attitude to do things to meet the accuracy and standard requirement of Japanese companies that AIFA has been working for a long time."
"Creating a product like i-Ctrl requires specialized knowledge. Not many companies have worked on the infrared database for more than 20 years like us, and we have collaborated with Japanese and German firms that have very high quality standards. We are confident that we can be one of the best in the world in this field," Ni said.
AIFA is looking for committed business partners who are interested in marketing i-Ctrl in other countries, Ni noted.